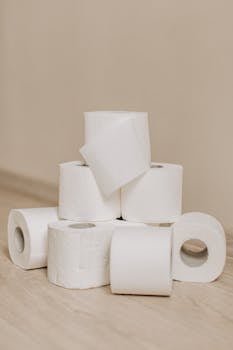 In 2020 we've gotten prepared to go to the throne twice, however, is it the correct throne. We're all running to the store to get another roll of toilet paper so; we do not miss out in going to the throne. I am not sure when anyone told the world that this COVID-19 issue was a stomach-bathroom issue. I personally thought it was an upper respiratory issue. Nevertheless, I see a bigger message in the Toilet Paper out of stock issue. Yes, I do. Roll with me on this.
Therefore, as we buy up all of the store's toilet paper so again, we can go to our outhouse and sit on the throne. Hence maybe we need to go to our church house and kneel at The Lord and saviors Throne. Yes, instead of getting more rolls of paper. Let's get out our biblical scrolls (GODS WORD- THE BIBLE). There is no answer in Do I need another roll of toilet Paper. However, there is all types of answers in your biblical scroll. There is not a truth to going to your outhouse other than giving out your waste. Even though you must get rid of the waste in your body. Let's put the waste there and then go to the Lords throne and fill up our bodies with the Lords word. The world has a lot of waste to share with us, therefore, lets share with the world the Lords word (the bible) Instead of the worlds waste. In Place of going- driving to your local store or getting online to buy one more toilet paper roll. Let's open up Gods word and share a page in his scroll. As you see the need to store up more toilet paper sit down with a piece of paper and your bible and store up Gods word in your heart. For this COVID-19 issue is real. The only way I see that it is going to be dealt with Is when WE THE PEOPLE kneel down at the correct throne and store up Gods word in our heart. We are not being shaken with stomach -bathroom, issues. I have not heard one new story about a person dying going to the outhouse too much and not having toilet paper. But I do think we are missing out and losing lives. Because we are not listening to God. He is I do believe Shaking us up. As we are now getting ready to go back into our homes and be shut in. God is doing that to us for sure shaking us up. Let's do like Noah Genesis, (7:1-9), did wen God shut him in. Seek out the Lord for all of your life and this world's crazy fall out. Let shut off the NEWS and turn on all of your biblical items (online church, worship music, audio bibles, Gods word bible). Kneel down by your bed. Use this time to seek God, at his throne. Sit boldly at his feet. Speak with him giving his words back to him. Share your heart with him. Pray boldly speak loud and clear giving him Thanks for everything. Give him back the time he desires from you. Call a friend, pray together as you both kneel by your bedside. Let's let this shut in be the last one. Let's end this year giving God the Glory he so honestly deserves. Let's not make the toilet paper companies Rich. Let's make our lives Richer for the Lord. Our fallen world needs us to bring God back into this world. Let's really celebrate the last few months truly giving thanks on thanksgiving to The King of Kings – The Lord of Lords. Let's sincerely make this Christmas a MERRY ONE! SING HAPPY BIRTHDAY TO THE LORD OF LORDS! Let's bring this New year in Loving on each other. Forgiving and forgetting about how we all are different but the same. Remembering how we all came from the same place. WE all have the same body parts and bleed the same. Let's show our creator THE KING OF KINGS -THE LORD of LORDS- JESUS CHRIST that we did not forget about HIM! Bring him back to the THRONE. Yes! Let him sit on the throne and let us kneel at his feet! Ring in 2021 not letting the devil steel our JOY – PEACE – And what our heavenly father did for us!
Dear Heavenly Father,
Today I come boldly at your THRONE kneeling at your feet. I do pray that this world gets it soon before it is too late. I know we have to go through a lot of stuff in this world. Yes! I do know that we have a bible filled with what is going to happen in this world. Nevertheless, I pray that we (the Nation) see that you are giving us a chance to make sure we do not fall short of knowing your son. I know you have given us so many signs. I do know at some point it will be too late for some. Even though I know this I pray to you asking that you find a way to help them to really find your son before it is too late. Help me to share your word even more. Let me be a blessing to you to share your word. I pray that you can do the same for my readers as well. If they do not understand who you are, I pray my words that I share each week touch their hearts. To love you like I do. To know you are really their source and resource for all. I pray this world understands that the toilet paper issues are not really the world's biggest issues. That we need to seek out you and your word. We need to keep you on the THRONE and kneel down by your feet. Not storing up rolls of toilet paper but, storing up your word. In Addition, sharing your word with others. For this COVID- 19 ISSUE is big and real. However, I do know if we do not get it now. You are going to do something else to shake us up even more. I just pray that we all do not fall short and miss out on your GLORY! For I know at some point there will be no more chances to get it right. SO, my heart is bleeding for the non-believer to not fall short and miss out on living in your kingdom forever! I thank you always and love you for your MERCEY that it is new each day. That your son died for my sins and GRACE was given to your children.
In Jesus Name AMEN!
Today, I ask anyone that is reading my blog. Please share it with one person. If you genuinely enjoy my writings and believe they bless you each week. Share that blessing PLEASE! If it is Gods will I pray to touch more lives each week. Thank you to all of my followers. You warm my heart each week. XOXOXO
Click below to read post on:The Answer, Is Not In Do I Need Another Roll Of Toilet Paper!
Remember, having faith in the Lord, is mor powerful then wishing on a Star! I dare you to try it!